Suffolk Cycling Garden Discoveries
I was expecting the Suffolk 'Smoothie' cycle tour to be full of really rich pickings – nothing could have prepared me for the amazing floral treat too! The half-timbered villages of Suffolk couldn't be more bloomin' beautiful and thanks to Suffolk's Open Garden Weekends whole villages just can't wait to lead visitors up their garden paths to enjoy homemade tea and cakes too…
Cycling Suffolk – Suffolk Smoothie bike tour (Tour 2A)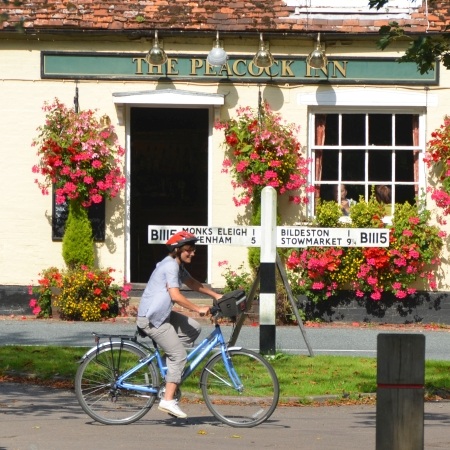 See Suffolk Cycle Tours for short breaks 
Discovering Suffolk Gardens by bike
or Come into the Garden, Claud
We'd started on a roll. Egg and bacon to be precise. Somewhat hurriedly thrown together before catching the early train up to Suffolk and back in time. It was Saturday and the week could have been kinder, but after alighting at Needham Market station, strolling past friendly, independent shops and following tiny lanes down to the River Gipping, I found myself – just like my destination of Alder Carr Farm – totally chilled out in the sunshine.
Claud was waiting for me as agreed. Well turned-out, ready to go and just as handsome as the last time we'd met. Andy from the Cycle Breaks team stepped in to greet me with a grin. He helped us get reacquainted, handed over maps and route notes and then, having reassured himself that we were indeed just right for each other, waved us off with a smile.
Naturally welcoming
The Gipping Valley proved to be cycling perfection at its most green and pleasant, followed by rolling, outstretched landscapes; tiny, traffic-free lanes and swishes of barley fields; clay-coloured cottages hiding behind the warm orange of poppies and  fabulous flint churches, sitting at peace with nature in graveyards full of butterflies, Oxeye daisies, corn flower blues and knapweed or rare orchid mauves.
Lunch was a country affair, washed down with a local apple juice as sweet and refreshing as the Suffolk breeze itself. But there were special moments to savour along the Suffolk cycle tour route too – impromptu tasty stops at roadside stalls to sample small punnets of raspberries for just a few coins in the honesty box. The true colours of Suffolk – so very real and delicious, silky smooth, surprisingly sharp – ah… so very refreshing.
Always colourful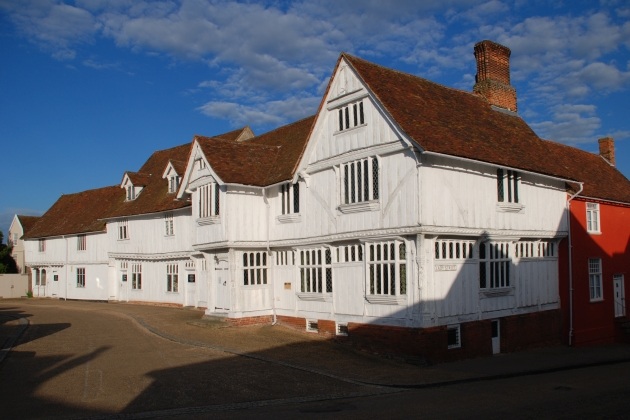 But what if you prefer things more black and white? Suffolk does that extremely well too, of course. Take our next stop – Lavenham – for example. Just the right amount of pedal pushing for a summery day delivered us into the medieval maze of leaning half-timbered houses conveniently in time for afternoon tea …
As Claud lounged by the tearoom's hollyhocks, I left him with the teapot and got down to some serious exploring. A quiet constitutional up Lady Lane led to the awesome 15th century Guildhall of Corpus Christi on the Market Square with its limed beams and the rich orange hues of Little Hall. Down Shilling Street, I concluded that the listed buildings must be worth a mint, (but couldn't locate an estate agents to confirm my theory!)
Even the tiniest window box or patio pot perched on the steps up to an ancient wool merchant's house doorway seemed brimful of white aubrietia, the purple-blues of gushing lobelia with a patriotic red geranium thrown in for good measure. The tiny streets twisted almost as much as Lavenham's medieval houses themselves and the floral discoveries just kept coming. Hanging baskets … planted tubs … and up near the massive flint Church of St Peter and St Paul, real English country gardens hiding behind a picket fence … Suffolk at its most black and white is, it seems, still colourful stuff.
Time for another sip before supper
Back on the trusty two-wheeled steed, winding Suffolk lanes just made for gentle cycle tours led to the White Horse at Hitcham, then onwards through rolling landscapes willing themselves to turn from green to gold, past candy pink cottages and historic farmsteads to Bildeston.  23 miles clocked since our outset and Claud seemed content to stable up for the night. The historic Bildeston Crown – do Suffolk gems get any better? – was a superb place for supper with a fruity local dessert. The rooms were great too, welcoming and relaxed – just right after the ride and so in keeping with the character of the day.
Gardens galore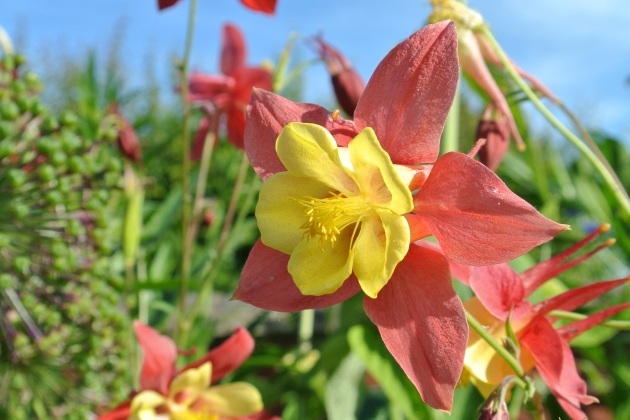 For those of us up bright and early, Bildeston outshone itself. Smooth Georgian facades and a smart clock tower, ornate porches and long stretches of half-timbered houses leaning forward towards the road to greet refreshed cyclists as they passed. On the main street a make shift stall offered up some fruit for the journey, collecting coins for charity. Up by the church which sits about a mile proud of the town, pale roses clambered and I wondered if they happened to be of that famous eccentric, old English variety, the 'Rambling Rector'.  But the smile didn't stop there. Claud willed me on and we whizzed back down through Bildeston to charming Chelsworth where every garden path had a story to tell.
The tiny rural village in its idyllic river setting was rustling and bustling. A snip of the secateurs here, the final push from a lawn mower – last minute preparations for a big day full of friends and fruit cake, a garden festival to be proud of. A small lady in a long apron rested her large trug on the gatepost and smiled on our gently pedalling approach. "Lovely day for it!" she beamed. Not too sure whether she meant the cycling or the gardening or both, we slowed a moment and I soon found myself complimenting her on the delphiniums, drooling over the dahlias and drinking a cuppa in her oh-so-pleasant Suffolk company.
Claud meanwhile was leaning against a flint and brick garden wall in the shade of the lupins not far from the Peacock, watching the world go by – one of Mr Butler's favourite pastimes when he's not whizzing about all over the place. Cuppa and conversation complete, I left him to it a moment longer and went for a closer peek at the ornamental poppies, the golden, star-like aquilegia and moons of allium. This was not a universe I had expected to discover on a smooth and lazy, gentle adventure of a cycling break, but it was a truly bright and beautiful one.  Oh to stay all day, but the old romantic had an eye on the Red Rose at Lindsey for lunch, followed by a freewheeling frolic through the watersplash at Kersey… so many refreshing moments to pack into one tiny short Suffolk cycling break!
New heights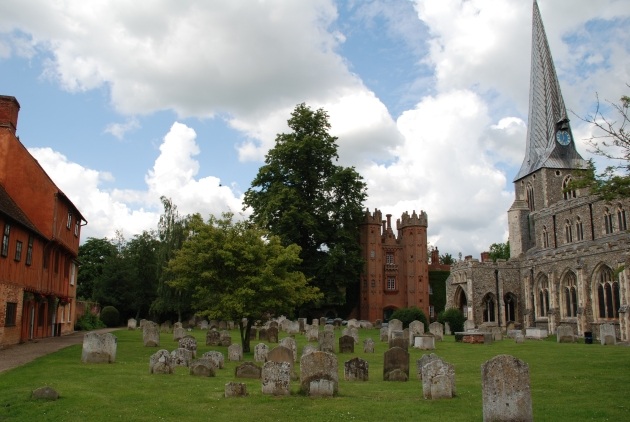 From the hilly heights of Kersey (yes, Suffolk does have them… quite gentle, but I had to get off and push), it was up and over the heath, alongside cow parsley verges and twittering hedgerows promising blackberries for summer days to come. At Shelley, the church provided a few moments of  cooling shade and some impressive monuments, before quick pace of the hours declared we should head for major wool town number 3: Hadleigh. The red brick deanery and massive medieval church were a wonder to behold, likewise the clumps of bright pink valerian clinging to the nearby walls. Toppesfield Gardens provided some waterside shade beyond the ancient packhorse bridge over the River Brett . Once again, it would have been so easy to stay a while – the Suffolk wool towns had truly worked their magic.
Past hedgerows tickled pink with dog roses at Barking Tye, along the patchwork fields which had taken so few hours to become so familiar, Claud and I headed homeward. With the old windmill-cum- dovecote-cum shop of Alder Carr Farm in view, we met the River Gipping again by Hawke's Mill in Needham Market and took a moment to peer over the red brick wall and gaze into the gushing water below. Buttercups shone like stars through the thick grass on the riverbank. Suffolk was an amazing universe of discoveries and a really refreshing breath of fresh air.
Our two cycling days away and 50 miles of pedalling were just perfect – perfect for making me want to go out with Claud and see so much more of Suffolk again soon…
Our cycling holiday in Suffolk
The Suffolk Smoothie bike tour from Cycle Breaks (Tour 2A) is a 2 day / 1 night package including gentle countryside cycling (Cycle Breaks Grade 2).
Cycle Breaks offer an extensive portfolio of Suffolk cycling tours, as well as cycle tours in Norfolk and overseas.
Cycling holidays in Suffolk – View the full range of Cycle Breaks cycling holidays in Suffolk.
Longer cycling tours through the garden-rich, picturesque Suffolk wool towns include:
Lavenham & the Pink-washed villages of Suffolk (Tour 4G)  from Stoke by Nayland  in Constable Country on the Suffolk / Essex border.
Constable Country and Lavenham (Tour 4A)
The Historic Wool Towns Tour (Tour 5A)
As well as brilliant bikes, maps / full routing, great local tips and comfortable accommodation, Cycle Breaks transfers your luggage and provides a full support service including puncture repair throughout its tours Suffolk.
Contributed by:  Anne Delbar ( inspired by Claud Butler & her favourite part of Suffolk)