Claret & Classics Bike & Boat Bordeaux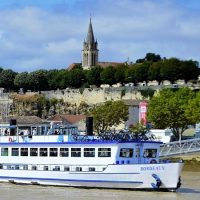 A fine, full-bodied tour, that's deliciously rich, relaxing and fruity with hints of kiwis and walnuts along the way. But what makes a Bike, Boat & Bordeaux holiday such an irresistible combination?
We got thinking that grapes and cyclists have a lot in common. Certainly the crew here at Cycle Breaks are an interesting bunch. As cyclists, we know that the nature of the terrain really matters. The climate too. And of course, variety is the spice of life. Just letting things take their time and going with the flow plays a part too.
Ah, so let's take all those things in reverse order…
Going with the flow
The Bordeaux wine region is bigger than all the vineyards of Champagne, the Loire and Burgundy put together. Stretching out along three rivers, what better way to explore than taking to the waterways and mooring up at quay points to pedal off around Aquitaine's vineyard slopes? More relaxing still, enjoy a stay on board a comfortable riverboat 'hotel' complete with crew, chefs and cycles and all the trimmings.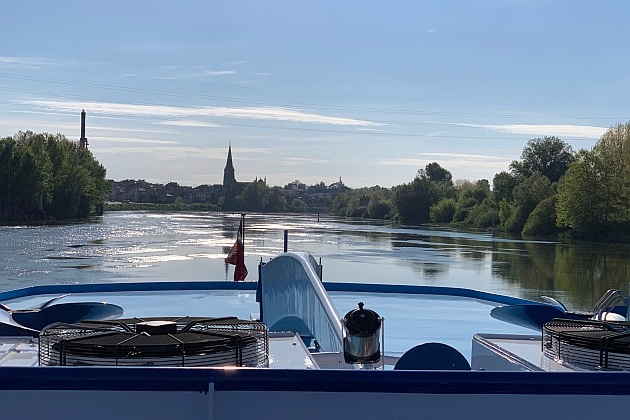 MS Bordeaux – could the name be more appropriate?! – provides comfortable en-suite cabins, great catering and plenty of opportunity for cycling camaraderie in its restaurant, lounge bar, or up on deck under sun or shade. Traveling Aquitaine's Dordogne, Gironde and Garonne rivers and Napoleon's 'Canal de Deux Mers', it delivers you and your bike right into the heart of Bordeaux, both city and countryside alike – often whilst you're enjoying panoramic views over supper or breakfast!
Bike & Boat Holidays France with MS Bordeaux » Cycle and cruise in style with MS Bordeaux »
Taking time
No rush. Explore at your own pace. Longer route, shorter route. An extra coffee and pastry perhaps? That special tour of the château wine cellar? A tempting tunnel to follow in the catacombs of Saint Emilion?
Prefer a day off from cycling? Stay and relax on board ship or maybe just saunter out to drink in the local atmosphere. No pressure. It's your holiday. We know that the best experiences are the ones you enjoy your own way.
Want some reassurance about how our bike and boat cycling holidays in Bordeaux will suit your biking ability? We offer our Claret & Classics bike and boat tour in two directions and there's a good reason for it as well as sharing a choice.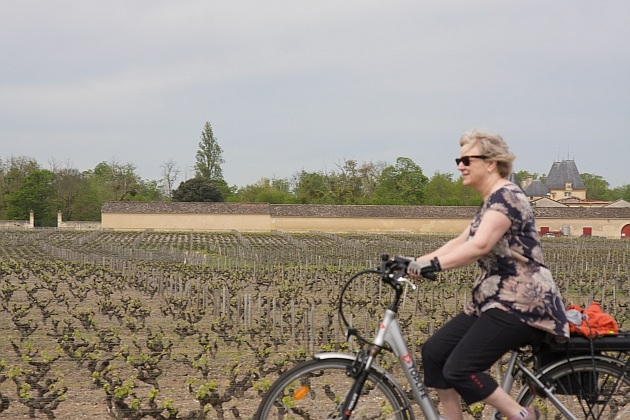 Join MS Bordeaux in Libourne and although you'll be starting your taste of Bordeaux with the red wine heavyweights of St Emilion, working up a thirst for those lighter, crisp whites of Entre-Deux-Mers as the days progress. In terms of cycling terrain, the St Emilion slopes are warm and gentle and you've several days cycling to work up to the steeper slopes which the white grapes around Sauternes prefer…
From St Emilion to Sauternes – Bike & Boat Bordeaux Vineyards »
Alternatively, if you're a more regular cyclist with a good level of fitness before you set off on your Bordeaux vineyards cycling holiday, heading straight down to Castets to cycle the Sauternes vineyards on your second main cycling day may be for you.
From Sauternes to St Emilion – Bike & Boat Bordeaux Vineyards  »
Variety, variety, variety
Red or white? Merlot, Cabernet Sauvignon, Cabernet Franc; Sémillion, Sauvignon Blanc or Muscadelle? Grand estate or small cooperative? Crémant, Grand Cru, Bordeaux Supérieur?
The Bordeaux area has 6810 wine-growers and 65 'appellations'. Of the 667 million bottles of wine it produces every year, nearly 90% is red, but the rest is white and wonderful too. You choose.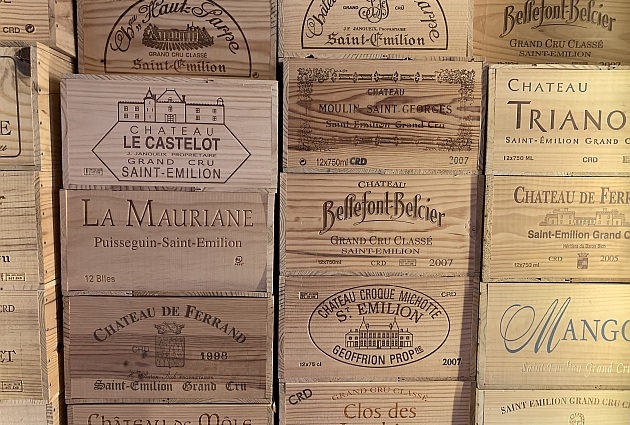 Churches or citadels? Castles or wine châteaux? Medieval bastides or modern architectural masterpieces? French history, tales of English rule, Gallo-Roman sites? Enjoy a taste of them all.
Or maybe go for some perfect combinations:
St Emilion Bordeaux – UNESCO World Heritage site and home of world-class wines.
Cité du Vin, Bordeaux – Museum of wine and culture offering workshops and permanent exhibitions for English-speakers – a stunning building designed by Anouk Legendre and Nicolas Desmazières, to suggest the gnarled stock of a vine, wine swirling in a glass and the eddies on the River Garonne.
Some like it hot (-ish)
Firstly, fear not – cabins on board MS Bordeaux have an individually controlled air-conditioning as well as en-suite showers and facilities. Also, the vessel's sun deck has a shady canopy too.
Being close to the refreshing waterways can be a real bonus, but ultimately the Bordeaux vineyards region is located near the Atlantic Ocean and enjoys a relatively temperate climate. The Gulf Stream warms and regulates temperatures and the wide Landes pine forests are a shield for the winds coming off the Atlantic.
Springs can be wet; frosts rare in winter, but above all the summers are warm and autumns very sunny – optimum ripening weather. And the vines love it – and so do most cyclists who are exploring the countryside gently with plenty of stops to drink in the local atmosphere and lots of fluids.
Terrain talk
What the vines like about the Bordeaux areas above the rivers is the rich alluvial deposits and gravelly, sandy soil on the limestone platform. The soils are diverse, producing wines with markedly different characters.
On a bike, back lanes and little roads lead up and down mainly gentle slopes, dipping in and out of history, coming across villages and hamlets of different levels of largesse and character. The colourful experience of a high-tech tour in English around the vaults of oak barrels at Châteaux  Lamonthe Bergeron may be magical and informative, but it might not be everyone's prized Médoc moment. Meeting a small-scale wine-grower in his roadside cellar for some top tasting tips shared in sign language might be truly a moment to treasure too.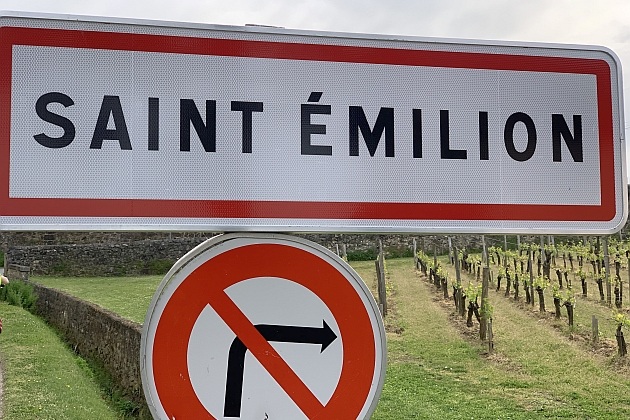 Whichever way you look at it, Bordeaux Vineyards Bike and Boat holidays offer a superb crop of delicious cycling and cultural opportunities. We hope you'll like them a whole bunch.
View our Claret & Classics Bike and Boat holidays in the Bordeaux wine regions:
France Bike & Boat with MS Bordeaux – From St Emilion to Sauternes» France Bike & Boat with MS Bordeaux – From Sauternes to St Emilion»
Contributed by :  Anne Delbar