Short Breaks in Suffolk
{cta}UK Bike tours in Suffolk – from half-timbered houses to heritage coastlines

Suffolk is one of England's driest counties and it has a great variety of relaxing landscapes and unsung wonders just right for a gentle cycling holiday adventure.
Blessed with rolling patchwork fields, punctuated by huge flint churches sprouting from the tiniest of medieval villages and over 50 miles of seashore, much of it unspoilt and protected by The National Trust, the Suffolk that is here to explore today is the work of men of another era: the farmers, clothiers, merchants and builders of the Middle Ages.
Lavenham is a labyrinth of half-timbered streets, guildhalls and weaver's cottages, one of England's best preserved medieval villages. At Kersey redbrick Tudor and timbered houses line the street down to the watersplash, safeguarded from on high by massive medieval church mindful of wealthy times past.
The market town of Framlingham has an impressive curtain wall castle and the strangest collection of Tudor brick chimneys. Jacobean mansions and pastel pink thatched cottages seem almost two-a-penny around here. Pity that the fascinating antiques in the shops which stretch the length of Long Melford aren't as well, but it's great to browse.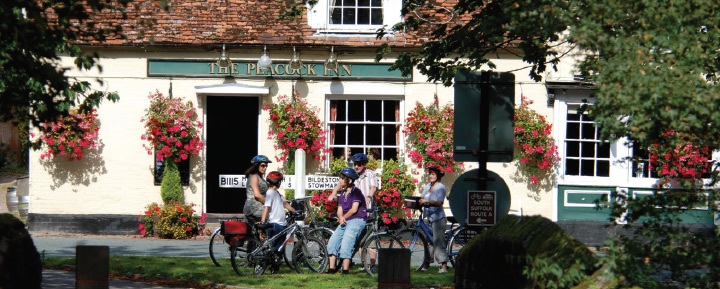 On the coast, memories of wealthy harbours which serviced the local wool trade sit silently alongside bird reserves at Dunwich Heath, Walberswick and Minsmere. Fishing towns like Benjamin Britten's Aldeburgh still have the local catch landed on the beach and fresh fish for sale from old huts just down the shoreline from Maggi Hamblin's contentious scallop sculpture. Nearby, Snape Maltings concert hall is home to the famous Aldeburgh Festival, and Orford, boasting a fine castle keep, has an equally fine reputation for its oysters.
To the north of PD James' haunting seascapes, bright-with-beach-huts Southwold oozes seaside nostalgia. It has all the mod cons when it comes to delicious delis and smart shops and galleries, all wrapped in an appropriate helping of old world charm. The town also offers plenty of opportunity to try the famed local brew, Adnams.
Sutton Hoo, the mysterious ship burial site not far from Suffolk's county town of Ipswich, is a fascinating find. Across the Deben, Woodbridge bustles with boats and woos with architecture from almost every era, whereas further south, the popular seaside town of Felixstowe with its gardens and historic Fort owes much to its popularity in Edwardian times.
For cycling holidays, Suffolk simply has an unsurpassed network of almost traffic free country lanes which crisscross the rolling countryside. It also includes a coastal stretch of the popular Harwich to Hull Sustrans cycle route.
Our UK cycling holidays are full of big skies and new discoveries, but gentle enough to present no more than a moderate challenge to even an occasional cyclist.
Like to learn more about places in Suffolk? Visit our Suffolk gazetteer