The craggy coves and mountain valleys of Mallorca and the wooded volcanoes and blue Mediterranean beauty of the Catalan coast, have really inspired us for our gentle cycling holidays in Spain.
Click on the map to find out more about bike tours in our selected regions of Spain including Mallorca cycling holidays.

Click here for cycling tours in Spain
To find out more about the towns and villages of interest on these cycle tours click here
Why these parts of Spain? Well now, let's see…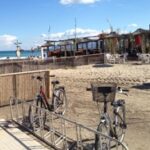 Volcanoes and dragon caves. Massive monasteries and majestic cathedrals. Cooling Catalan coastlines and Mallorca's coast of a hundred coves. The bobbles and bumps on Dali's Theatre Museum in Figueras and Giron's rich Tapestry of Creation. A glass of Emporadà perhaps, with a wander round the wine museum or a spot of shady pedalling by the olive groves and orchards. A taste-bud tingling fish dish, fresh from the Mediterranean catch at St Feliu de Guíxols where the fishermen mend colourful nets crouched by the quayside. Windmills, watch towers and broad sandy beaches. Red, red earth and green, green mountains. Honey-coloured villages where ancient influences stack up in the streets themselves. And hospitality as warm as the Mediterranean sun.
Great places to stay…
From a colonial manor house by the Med, historic island cloister or town centre hotel in the heart of a natural park to modern boutique hotels by the sea, our Spanish hotels are mainly rated 3 or 4 star according to local classifications. In mainland Spain and in Mallorca, many of our selected hotels have open air swimming pools and some also offer additional leisure facilities – the perfect way to wind down even more after a gentle day in the saddle.
Making sure you get a taste of the place
Our hotel stays in Spain are arranged either on a bed and breakfast basis or on a bed and breakfast basis with some evening buffets and a lunch, but in our route notes, we point out great places to stop for meals, snacks, a picnic or refreshing glass of local wine. We also give tips for evening meals, either at the hotel or nearby restaurants where appropriate.
Good friends to support you along your way…
As much as we might like to, we can't cut ourselves into pieces and welcome you personally all around Europe. In Spain, we work in partnership with local experts who share our commitment to quality, service and great cycling. Together, we ensure that the route notes prepared during our own latest experiences are up-to-date and that accommodation continues to meet our high standards. We are proud of our partners and delighted that you will be welcomed by friends.

Getting to the start of your adventure
Although there are constant changes in the world of passenger transport: we have knowledge to share about how to get to Spain by rail, tunnel or air. We are pleased to talk through all travel arrangements, including transfers from stations and airports.
For our selected tours in Catalonia, we suggest rail travel to Girona or flights into Girona, Barcelona and Perpignan. For Mallorca, there are a good number of operators offering flights into Palma .