The buzz of lively Lisbon; the wild Arrábida hills and Alentjo coast; the craggy Costa Vicentina and the Algarve, land of lagoons, pirate coves and impressive Moorish castles – welcome to the inspiration for our selection of gentle cycling holidays in Portugal.
Our bike tours in Portugal include Portuguese cycling holidays along the Alentejo west coast, south of Lisbon, Algarve cycling holidays and Algarve coast short breaks including single centre Algarve holidays and longer stay combination tours for biking in Lisbon and the Algarve coast. 
Click here for cycling tours in Portugal
Click here for cycling tours in Lisbon and along the west coast
Click here for cycling tours in the Algarve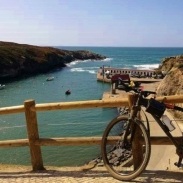 Why these parts of Portugal? Well now, let's see…
Pirate coves and bird-filled lagoons. The seven hills of bustling Lisbon and Belém's lavish Jérónimus Monastery. Seafood platters and sweet potatoes. Village clusters of white flat-roofed houses and tiny churches perched on promontories. Sunsets which set the sea on fire and vistas which take the breath away. Dolphins swimming alongside the ferry. White storks nesting in the red rocky craggs. Gravity-defying dunes lining the cliff tops and castles basking the Atlantic Coast sun as they have done for centuries. The rattle of wooden trams en route to Lisbon's historic Alfama district. The Baroque swirls of Tavira gables. The tinkle of halyards in resort marinas and the crash of the surf along the Costa Caparica. Golden beaches. White saltpans. Red cliffs and deep brown cork bark. Pink flamingos. Green, green hills. And hospitality that's as warm and relaxed as the Algarve sun.
Great places to stay…
From a contemporary boutique hotel with outstanding stack-rock views, to a poolside historic city centre courtyard or marina-side apartment hotel, our carefully selected Portuguese hotels are mainly rated 3 or 4 star according to local classifications. For your enjoyment after a day in the saddle, most have swimming pools; some offer additional facilities and many are only a short distance from beautiful beaches, promenades or city centre must-sees.
Making sure you get a taste of the place
Our hotel stays in Portugal are arranged on a bed and breakfast basis, with half board also available as an option. There are great opportunities en route each day for meals, snacks, picnics or a refreshing glass of something special, and places to eat either at the hotel or at nearby restaurants for evening meals .
Good friends to support you along your way…
As much as we might like to be welcoming you personally all around Europe, our Cycle Breaks team can't be everywhere at once. In Portugal, we work in partnership with local experts who share our commitment to quality, service and great cycling. Together, we ensure that route notes prepared during our own latest experiences are up-to-date and that accommodation continues to meet our high standards. We are proud of our partners and delighted that you will be welcomed by friends.
Getting to the start of your adventure
The world of passenger transport is constantly changing, but the Cycle Breaks team have knowledge to share about how to get to Portugal by rail, tunnel or air. We are pleased to talk through all travel arrangements, including transfers from stations and airports.
For our selected tours in and around Lisbon, the capital is served by both rail and air and there are also a wide selection of flights into Faro. For our selected tours along the Algarve coast, we suggest rail travel to Faro via Lisbon or flights into Faro or Lisbon.
Tours starting in the Algarve destinations of Sagres or Tavira include a transfer from Faro airport to the first night's accommodation.