The romantic river Elbe; the many magnificent sides of Lake Constance; the refreshing lakes and mountains of Upper Bavaria and the great River Danube meandering into Austria from Passau have really inspired us for our gentle cycling holidays in Germany.
Click on the map to find out more about our bike tours in our selected regions of Germany. To find out more about the towns and villages of interest on these cycle tours click here
Why these parts of Germany? Well now, let's see ….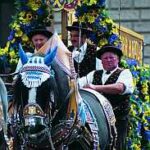 Baroque swirls, Bavarian bands and Bodensee beauty. Watzmann mountain peaks, rocky Elbe-side outcrops and green, green valleys.  A refreshing moment by the Rhine Falls. Dreamy Danube days, dotted with unique little bike ferries and re-lived over a cool, frothy beer in the hotel 'Biergärtl'. Feathers in local caps. Lakeside houses on stilts or Passau's three rivers. Reichenau, Mainau, Lindau – three spots of island life. Then there's the delicious Würstchen with sweet mustard. Local 'Tracht' and Lederhosen even. Smart spa towns busting with civic pride. Fortresses and palaces lining the Elbe river from Prague. The great expanse of Lake Constance, Chiemsee, lavish castles and little churches. Balconies overflowing with colourful Geraniums and maypoles towering with bright floral tributes. The sheer beauty of the Königssee's still waters against its rising, rocky walls and the nestling calm of its lakeside church. Kaffee und Kuchen on the Kurgarten terrace. And the warmest welcome Germany could possibly offer.
Great places to stay…
From smart 'Gasthöfe' adorned with wall paintings, geraniums and carved gables to convenient and comfortable town centre hotels and relaxed lakeside properties, our German hotels are mainly rated 4 star according to local classifications, although our Bavaria: Munich to Salzburg tour, Elbe tours and single centre tours in the Lake Constance area may include some 3 star properties. Our Elbe tours and a couple of our longer tours to the Lake Constance area include an unrated, but very comfortable and well-located property. Many hotels have saunas; some have swimming pools and one or two even offer the option of a relaxing massage – something else to look forward at the end of the day as well as that cold beer, glass of local wine and a guilt-free pastry!
Making sure you get a taste of the place
The hotels that we have selected for our bike tours in Germany are arranged on a bed and breakfast basis but in our route notes, we point out great places to stop for lunch, a picnic, a refreshing glass of local wine or chilled and froth-topped beer. Half board is an option on most tours. We also give tips for evening meals, either at the hotel or nearby restaurants.
Good friends to support you along your way…
As much as we might like to, we can't cut ourselves into pieces and welcome you personally all around Europe. In Germany and Austria (Switzerland, the Czech Republic, Hungary and Slovenia), we work in partnership with local experts who share our commitment to quality, service and great cycling. Together, we ensure that the route notes prepared during our own latest experiences are up-to-date and that accommodation continues to meet our high standards. We are proud of our partners and delighted that you will be welcomed by friends.

Getting to the start of your adventure
We've been organising cycling holidays in Germany since 2007. Although there are constant changes in the world of passenger transport: we have knowledge to share about how to get to Germany by rail, ferry, tunnel or air. We are pleased to talk through all travel arrangements, including transfers from stations and parking for your vehicle.
For our selected tours, we suggest rail travel to Passau, Munich or Konstanz (via Zurich) or flights into Salzburg, Linz (closest to Passau), Munich, Friedrichshafen or Zurich. The excellent rail network in the area is the best option for transfers to/from Passau, Vienna, Munich, Salzburg or Zurich as required.