Cycle Tours Suffolk: Discover Beers & Ciders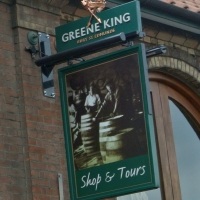 Good ol' Suffolk – it's the place where the beer glass is always at least half full! The area is famed as the home of two major breweries, Adnams and Greene King – but it also has many small craft beers and micro-breweries. Going on cycle tours of the county offers the perfect opportunity to sample some of its ales over a delicious pub meal in the evening, before heading off for another ride the next day.
Ale & Hearty – Discovering Suffolk's Beers & Ciders
The historic seaside resort of Southwold has a unique character and atmosphere, with landmarks including its pier and cliff-top cannon, not to mention its famously exclusive array of colourful beach huts. The Adnams Brewery is also a celebrated landmark.
Adnams of Southwold
There are records of beer being brewed in the town as far back as the 14th century, but the Adnams brothers, George and Ernest, set up their famous Sole Bay brewery in 1872.  The brewery kept up the tradition of having its drays pulled by horses right up until 2006, when the last ones retired. Adnams' most famous beers include Southwold Bitter, Broadside and Ghost Ship, inspired by the supposedly haunted Bell Inn in Walberswick.
It's possible to go on brewery tours on a visit to Southwold, and see how the beers are created, and tours of the company's distillery, where it makes spirits, are also available. There's even a chance to create some gin yourself.  Both brewery and distillery tours can be booked ahead via the company's website. All tours include a visit to the company's museum, with items of equipment and advertisements from the past on display.
Bury St Edmunds' Breweries
Suffolk brewery, Greene King, is based in the cathedral town of Bury St Edmunds. It's believed that monks first brewed ale on the site of the town's abbey back in the 11th century, but Benjamin Greene founded the modern brewery in the 18th century. Today, it is possible for visitors to tour the brewery and see how the ales are produced using traditional methods, and to look around the brewery museum. The tours do need to be booked in advance, by contacting the Greene King visitor centre.
As well as Greene King, Bury also has other smaller breweries. These include the Old Cannon Brewery, a brew pub which sells its own beers, founded in 1999. Customers of the pub can see brewing in progress, usually on Mondays and Wednesdays. The microbrewery Brewshed creates a number of craft beers served at several local pubs, while another microbrewery, Bartrams, based in nearby Rougham, creates many special beers to celebrate local events and personalities.
Debenham – in-cider Information
If you thought cider only belonged to the West Country, think again. Suffolk has its own historic brand, Aspall Cyder. It was originally grown by Clement Chevallier from Jersey when he moved to Aspall Hall, just outside Debenham, in the 1720s.  The company still grows 46 varieties of apples in its own orchards, and markets its traditional ciders in bottles designed in the 1920s and 1930s. Sadly, there is no Aspall visitor centre, but there's plenty of opportunity to sample Aspall ciders at local pubs and shops.
Although Debenham is most famous for Aspall Cyder, it also produces beer at Cliff Quay Brewery. This micro-brewery carries the name of a famous brewery in Ipswich, where the Tolly Cobbold ales were produced for more than 250 years, until 2002. Beers brewed in Debenham today include Old Strong, a winter warmer, Bowline, Mermaid, and a beer carrying on the historic name, Tolly Roger. The brewery has a shop and it's possible to go on brewery tours.  Cliff Quay shares its site with its sister company, the Earl Soham Brewery, which started life in a chicken shed and now supplies the Victoria and Station pubs in Framlingham.
Brewing Up a Treat
Suffolk also has many other micro-breweries and craft beers, and the Campaign for Real Ale (CAMRA) maintains a list of those which are currently operating. So it could pay to be adventurous in the evening after a day out enjoying your cycle tours. Try something different in a Suffolk pub – and you might just discover a favourite tipple to bring back memories when you return home.
Suffolk stages a number of beer festivals every year, offering the perfect opportunity to sample some of the niche beers which aren't so well known. A couple of the main CAMRA festivals are the East Anglian Beer Festival in Bury St Edmunds in April and the festival at the Museum of East Anglian Life in Stowmarket in June. But there are also many smaller events, including festivals based at individual pubs.
Drinking in the Landscape
If you are planning biking holidays in Suffolk, discovering the beautiful countryside, the market towns and the local ales, the Cycle Breaks staff would love to share their passion for the area. We have a number of routes on offer taking in different areas of the county, with detailed information on every aspect of the journey. In addition, if you decide to buy a case of local beer on your travels, we are happy to collect it and store it for you until you have finished your trip. It's all part of the Cycle Breaks service.
Suffolk Cycle Tours  – Bringing Good Cheer 
Cycle Breaks offers an extensive selection of Suffolk cycle tours , including: 
The Suffolk Pinks & Seaside Greens tour  (Tour 4J). This includes a visit to Southwold, home of the Adnams brewery. (Cycle Breaks Grade 3).
The Castles, Cliffs & Cloth Tour (Tour 8B). This also takes in a visit to Southwold, as well as a tour of Debenham. (Cycle Breaks Grade 2-3).
From Cottages to Coast (Tour 3J). This tour includes both Debenham and Framlingham, along with many other atmospheric towns and villages. (Grade 3).
The Bury St Edmunds Star  (Tour  3L). This single-centre stay offers the chance to explore the cathedral town, home of the Greene King brewery, and other nearby wool towns.  (Cycle Breaks Grade 1-2).