Bike Tours Suffolk: Guide to Food Festivals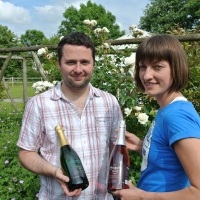 Suffolk is famed for its food and drink. Festivals celebrate local producers and their delicious offerings, ranging from wines and beers to freshly-caught fish, artisan meats and cheeses, traditional apples and even delicate-tasting samphire, an edible seaweed foraged from the shore. The county boasts a fantastic choice of farmers' markets and delicatessens, as well as many restaurants and pubs with delicious local foods on the menu. Bike tours through Suffolk offer the perfect chance to discover some of these delicacies on your travels. The county also has a number of food festivals where you can meet small local producers and sample their wares.
Discovering Food Festivals in Suffolk 
One of the county's tastiest annual events which is music to the tastebuds is Aldeburgh Food and Drink Festival, held in September at Snape Maltings. The concert hall and surrounding complex in Snape are famed as the home of the Aldeburgh Festival, founded by composer Benjamin Britten, and a wide range of musical events are staged here each year.  However, the whole area has also become known as a gourmet destination, with many well known eateries. These include the famous Aldeburgh Fish and Chip Shop, where long queues build up daily, and Pinney's smokehouse in Orford, known for its smoked fish and oysters.
The Maltings complex itself houses a food hall offering everything from quails' eggs to pressed apple juices, as well as breads, pastries and a wide range of meats.  The Plough & Sail pub and Cafe 1885 are also on site, together with the Granary Tea Shop and Concert Hall Cafe and Restaurant.  Regular farmers' markets are staged here, and lovers of good food travel from far and wide to join in the food and drink festival, which has grown in popularity since it started ten years ago.
Aldeburgh Food and Drink Festival events due to take place over the weekend of September 29 to 30 2018, include a masterclasses, demonstrations, wild food forays and beer tastings.  Among the chefs taking part this year are  past winner of MasterChef, Dhruv Baker; cook, writer and TV presenter, Thomasina Miers , renowned Norfolk restaurateur Galton Blackiston and many more. The event also offers the opportunity to wander around a host of stalls, chatting to the owners of small food businesses and tasting all kinds of delicious and unusual foods.
As well as the delectable dates in Snape itself, the festival features numerous fringe events over a wide surrounding area, which go on well into October. This year's fringe delights range from tours of the chocolate rooms at Pump Street Bakery in Orford to Munchy Seeds factory tour and the Leiston Long Shop Real Ale and Music Festival 12- 14 October 2018, home of the Garrett steam engine.
Going with a Banger
Held on 14 October 2018, Framlingham Sausagefest is a sizzling celebration of Suffolk sausages. While it started out as part of the Aldeburgh festival and still comes under its umbrella, this festival is now a popular annual fixture in its own right, attracting thousands of food lovers. Visitors can follow a "sausage trail" and taste a variety of mouth-wateringly meaty offerings, as butchers and producers battle it out to win the coveted best sausage award. Sausagefest also includes a barbecue cooking workshop, demonstrations, entertainment, and stalls.
With its 12th century curtain wall castle and picturesque mix of historic buildings, Framlingham is a popular destination for cyclists and walkers alike, and its pubs, restaurants and food shops have a fine reputation. As well as Sausagefest another  culinary event often held in the town is Suffolk Food, Drink and Music Festival, staged together with Framlingham Country Show in late spring.
Just a short pedal push away from Framlingham Castle, don't miss a visit to Shawsgate Vineyard for a refreshing taste of something deliciously local and a gentle walk around the vineyard trail.
Best of the West
East Suffolk isn't the only area of the county to serve up sumptuous gourmet foods. The west of the county is also known for its cuisine, with many exciting restaurants, pubs and delicatessens to discover.
Popular summer food festival often held in this area include Taste of Sudbury, the market town, which is famed as the birthplace of artist Thomas Gainsborough and is very close to historic Lavenham – including Lavenham Brook Vineyard / Red Poll Cattle – and the Bury St Edmunds Food and Drink Festival.
A Taste for Biking
The team at Cycle Breaks are local to Suffolk and have a wealth of knowledge about the county, including hot tips on places to eat during your bike tours. All the route descriptions contain detailed information about every stage of your journey. That includes suggesting many refreshment stops where you can be sure of a delicious meal or snack before getting back in the saddle.
Bike Tours in Suffolk on the Foodie Trail
Cycle Breaks' wide range of bike tours in Suffolk  include many routes taking in some of the region's culinary highlights, including these:
Based near Woodbridge, the Suffolk Coast & Country Single Centre Break (Tour 3GU) offers the chance to visit a variety of locations including Snape Maltings, Orford and Framlingham. (Cycle Breaks Grade 1-2).
The Castles and Coastlines tour (Tour 5B) includes visits to historic Aldeburgh, Framlingham and Snape Maltings.  (Cycle Breaks Grade 2-3).
The Heritage Coast tour (Tour 6D) also visits Snape and its atmospheric surrounding landscapes, as well as Aldeburgh and Framlingham. (Cycle Breaks Grade 2-3).
The Historic Wool Towns Tour (Tour 5A) takes in Bury St Edmunds as well as Lavenham. (Grade 2-3).
If you want a taste of different areas of Suffolk, the Castles, Coast & Constable Tour (Tour 8A) features a range of landscapes, including Framlingham and Aldeburgh as well as Lavenham and Constable Country. (Cycle Breaks Grade 2-3).
The wide-ranging 14-day Grand Tour of Suffolk (tour 14A) not only includes Aldeburgh, Snape and Framlingham, but also historic Sudbury and Lavenham, as well as Bury St Edmunds – and a dazzling range of other locations across the county. (Cycle Breaks Grade 3).