Considering a holiday or short break cycling in the UK?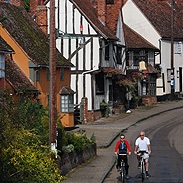 Self-guided and fully supported bike tours in the UK and Western Europe, ranging
from 2 to 14 nights are on offer through our dedicated programme at Cycle Breaks. We pride ourselves on a high level of personal service and a great variety of inspiring holiday destinations. We offer well-researched routes coupled with accommodation chosen by ourselves from a cyclist's perspective all packed with plenty of places to get a taste of real local flavours along the way.
In England our Suffolk cycling holidays include opportunities to explore the beautiful coast and countryside in the ancient kingdom of East Anglia, situated within easy reach of
London and just 90 miles north east of the capital.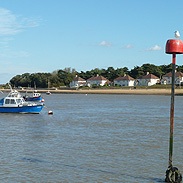 Cycling Tours Suffolk – click here to view our Suffolk Cycling Tours.
Why cycling holidays in England?

Whether travelling into the UK by plane or ferry or choosing a holiday 'at home' for a change, heading out on a gentle cycling adventure in England is a great way to experience – or re-experience – the English coast and countryside. On a bike, the real England and its quirky charms become so much more immediate and the great skies of Suffolk in particular have a special way of putting everything into perspective.
Only a short car journey or train ride out of London and its airports or from the Midlands, Suffolk is easily accessible. With reduced travel times, there's no question of taking any hours out of your break, and on the day you arrive at your first hotel, you can start exploring immediately. Whether you've got just a small weekend window or the luxury of a week away, a cycling break is a perfect way to unwind and enjoy some 'breathe-in' space.
Biking tours in Suffolk – from half-timbered houses to heritage coastlines
Suffolk is one of England's driest counties and it has a great variety of relaxing landscapes and unsung wonders just right for a gentle cycling adventure.
Blessed with rolling patchwork fields, punctuated by huge flint churches sprouting from the tiniest of medieval villages and over 50 miles of seashore, much of it unspoilt and protected by The National Trust, the Suffolk that is here to explore today is the work of men of another era: the farmers, clothiers, merchants and builders of the Middle Ages.
Lavenham is a labyrinth of half-timbered streets, guildhalls and weaver's cottages, one of England's best preserved medieval villages. At Kersey redbrick Tudor and timbered houses line the street down to the watersplash, safeguarded from on high by massive medieval church mindful of wealthy times past.
The market town of Framlingham has an impressive curtain wall castle and the strangest collection of Tudor brick chimneys. Jacobean mansions and pastel pink thatched cottages seem almost two-a-penny around here. Pity that the fascinating antiques in the shops which stretch the length of Long Melford aren't as well, but it's great to browse.
On the coast, memories of wealthy harbours which serviced the local wool trade sit silently alongside bird reserves at Dunwich Heath, Walberswick and Minsmere. Fishing towns like Benjamin Britten's Aldeburgh still have the local catch landed on the beach and fresh fish for sale from old huts just down the shoreline from Maggi Hamblin's contentious scallop sculpture. Nearby, Snape Maltings concert hall is home to the famous Aldeburgh Festival, and Orford, boasting a fine castle keep, has an equally fine reputation for its oysters.
To the north of PD James' haunting seascapes, bright-with-beach-huts Southwold oozes seaside nostalgia. It has all the mod cons when it comes to delicious delis and smart shops and galleries, all wrapped in an appropriate helping of old world charm. The town also offers plenty of opportunity to try the famed local brew, Adnams.
Sutton Hoo, the mysterious ship burial site not far from Suffolk's county town of Ipswich, is a fascinating find. Across the Deben, Woodbridge bustles with boats and woos with architecture from almost every era, whereas further south, the popular seaside town of Felixstowe with its gardens and historic Fort owes much to its popularity in Edwardian times.
For the cyclist, Suffolk simply has an unsurpassed network of almost traffic free country lanes which criss-cross the rolling countryside. It also includes a coastal stretch of the popular Harwich to Hull Sustrans cycle route. Cycling in Suffolk is full of big skies and new discoveries, but gentle enough to present no more than a moderate challenge to even an occasional cyclist.
Liketo know more about places in Suffolk? Visit our Suffolk gazetteer
Cycling in Constable Country and around Cambridge
The lowland meadows and riverscapes which inspired England's favourite landscape painter have changed little over the centuries since John Constable set up his easel to capture 18th C. life. Constable Country – the stretch along the River Stour, the very border of Suffolk and Essex – loosely refers to the area where the artist could have got to on horseback in a day. Had he lived a couple of centuries later, he would surely have gone by bike.
East Bergholt where Constable was born, Flatford where his father worked at the mill, Dedham where he went to school and the surrounding villages of the area known for its Medieval wool trade heritage and enormous flint churches makes great cycling country. Take a circular tour, overnighting in a variety of picturesque places and characterful hotels, or opt for a single centre break with a little time for golf or the pool – Cycle Breaks has combinations for all tastes and weekend (or midweek) windows of opportunity.
Head further north within the county, past Georgian Sudbury where Thomas Gainsborough's former house beckons to give insight into another famed East Anglian artist of the period and rolling valleys give way to higher heaths and smartly fenced fields full of slick horses on the outskirts of Newmarket.
Just over the county border here, the streets of the historic University city of Cambridge resound with vibrant student life and bicycle bells. Town and gown rub shoulders by the Cam where chauffeured punts glide along the college 'Backs'. There are 31 colleges in all, from the mighty King's College with it's amazing fan-vaulted chapel to impressive Trinity with its huge courtyard made yet more famous by the film, Chariots of Fire. Darwin, Newton, Sir Christopher Wren… Cambridge scholars make for a formidable line up and their legacies from collections to libraries and even an apple tree take pride of place alongside the latest chic boutiques and big name department stores within this smart and lively city today.
Like to know more about Cambridge and places in Suffolk? Visit our Suffolk gazetteer
Why choose a Cycle Breaks holiday in Suffolk?
We simply love the Suffolk where we live and work. We love cycling too – and sharing our enthusiasm and expertise.
We've been listening and learning from our customers heading to Suffolk since 1991, so our Cycle Breaks team understand your priorities and we pride ourselves on personal service. The routes we develop and the accommodation we select ensures the most inspiring and refreshing of gentle cycling adventures. Our customers really appreciate the detail in our tours and our holidays are considered to be good value for money.
We have developed our programme of tours throughout East Anglia slowly, choosing tours carefully. We visit the hotels personally, refining selections and preparing our own detailed route notes from our own research. We can advise on the suitability of routes, how to get to your chosen start destination and tailor itineraries to individual requirements.
All in all, we aim to offer real peace of mind, organising accommodation, arranging luggage transfers and en-route support and preparing meticulous route notes and mapping with top tips all round, so you can relax on your gentle journey as you experience the real England along Suffolk's country lanes and byways.
Cycling Tours Suffolk – click here to view our Suffolk Cycling Tours.