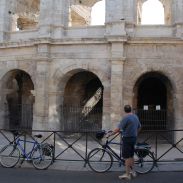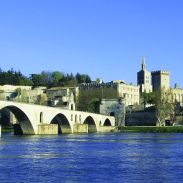 Considering cycling in Provence?
Cycle Breaks prides itself on delivering a high level of personal service and a great variety of inspiring holiday destinations. Our self-guided and fully supported cycling tours in France and northern Europe range from 5 to 7 nights. All tours feature accommodation selected by our cycling selves and incorporate pleasant places full of real local flavour along our well-researched routes.
In France our cycling tours include routes to help you explore the warmest colours of the sun-baked lands close to the Med north east of Marseille, where Roman aqueducts are as impressive at the natural rugged gorges they span, timeless stone hamlets hide under terracotta pantiles and vineyards promise the most delicious nectar from the Côtes du Rhône.
Our current French cycling tours include cycling holidays in Provence, the Dordogne and the Loire Valley.
Cycling Tours France – click here to browse our French cycling holidays.
Cycling Tours Provence – click here to browse our Provence cycling holidays.
Why cycling holidays in France?
Whether travelling by plane, train or ferry from the UK or heading by car or rail across the Continent, France, the land of baguettes, berets and so very much more, is very approachable from all directions.
Good hospitality, an array of rich history, a pleasant climate and relaxed pace of life, delicious delicacies, the finest wines, plus breath-taking scenery from rugged crag-perched villages and sun-baked vineyards to lush marshlands where white horses roam make it an inspired choice for a gentle cycling adventure.
Cycle Breaks itineraries are designed to introduce you to local colour in a very special way –where better then to start than France's richest palette, Provence?
From fields of golden sunflowers and warm wafts of lavender purples to the most rewarding ruby hues of a glass of Châteauneuf-du-Pape, Provence is brimful of exciting flavours and contrasting colours. Pedal out to the Camargue in search of black bulls, white horses and pink flamingos.
Park up at a medieval market place to select from sun-ripened tomatoes and an overwhelming array of olives for a picnic treat. Or prop up your bike, lean back and relax on the café terrace and sip a real pastis made as only the locals know how.
Generate your own gentle breeze through the warm Mediterranean sunshine as you head off each day on new cycling adventures along river paths and quiet roads, or climb higher into the Alpilles to lands of cooling quarry cathedrals and rocky bastides at Les Baux.
Choose your own pace, follow the occasional suggested detour if you wish. Cycle Breaks routes give plenty of top tips and options along the way, guiding you through Provence's vineyards and truffle country, over bridge after impressive bridge, down river valleys and gorges to some of France's most awesome Roman architecture and medieval masterpieces.
From regimented Roman arches to the wildest white horses
Provence somehow has a scale all of its own. The amazement is as massive as the arches where the historic Pont du Gard straddles the Gardon: the exhibition centre of this World Heritage Site helps put the 275m ancient aqueduct in perspective. Orange and Arles boast more Roman treasures from triumphal monuments to a 10,000-seat theatre.
At one-time-capital-of-Christendom Avignon, the imposing Palais des Papes owes its origins to the 14th century. Today it shares its historic courtyards with contemporary art treasures and has some temptingly fine wine cellars. The nearby Pont d'Avignon (Pont Saint-Bénezet) deserves a whistle stop tour, even if you don't know the famous tune.
In the rocky Alpilles between Avignon and Arles, spectacular Les Baux has a lower 'living' village and deserted upper village carved from the solid rock a of a natural rock island. Impressive enough, but walk into the hillside quarry for one of the most dwarfing colourful experiences which Provence has to offer: the Cathédrale d' Images, where massive quarry tunnels become gigantic screens bathed in engulfing and mutating works of art.
The Provence landscape is its own gi-normous canvas, colour-rich from the brackish lagoons of the Camargue to the evergreen Kermes oaks near medieval Uzès. Shady plane trees dapple avenues and market places cooled by fountains at St Rémy or Sablet. There are more Romanesque treats at aptly names Vaison-la-Romaine, and more refreshing moments past and present to explore at Pernes-les-Fontaines, Fontaine-de Vaucluse and Gigondas, a most palatable stop.
Provence offers outstretched fields which colour the whole horizon; Roman bridges which tower 48m over the River Gardon. It also reveals cheeky little blue-shuttered cottages playing peek-a-boo around every village corner and delivers real excitement by the simplest distant equine flash of wild white across the flatlands of the unique marshland area known as the Camargue.
On a bike, you'll see it all close up and at a distance too – you could say that your gentle cycling adventure in Provence has a way of putting everything in perspective.
Why choose a Cycle Breaks holiday in France?
Listening and learning from our customers heading to France since 2002, our Cycle Breaks team understand your priorities and pride themselves on personal service.
We have developed our French programme slowly, choosing routes carefully. We visit the hotels personally, refining selections and preparing our own detailed route notes from our own research.
We can advise on the suitability of routes, how to get to your chosen start destination and tailor itineraries to individual requirements.
We simply love France and cycling too – and sharing our enthusiasm and expertise. We develop routes and select accommodation to ensure the most inspiring and refreshing of gentle bicycling adventures. The detail in our tours is appreciated by our customers and our holidays are considered to be good value for money.
What's more, we aim to offer real peace of mind, organising accommodation, arranging luggage transfers and en-route support and preparing meticulous route notes and mapping with top tips all round, so you can relax on your gentle journey as you explore the rich colours, impressive architecture wonders and most delicious flavours of Provence.
Cycling Tours Provence – click here to view our Provence Cycling Holidays.