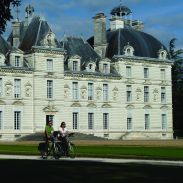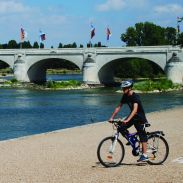 Thinking of cycling in the Loire Valley?
Cycle Breaks provide self-guided and fully supported cycling tours in France and Western Europe, ranging from 5 to 7 nights. We pride ourselves on a high level of personal service and a great variety of inspiring holiday destinations including cycling in the Loire Valley. We choose our accommodation from a cyclist's perspective and seek out plenty of places to get a taste of real local flavours along the well-researched routes of our bike tours.
In France our cycling tours include opportunities to explore the beautiful Loire Valley, the region west of Paris famed for its Châteaux and vineyards.
Cycling Tours France – click here to browse our French cycling holidays.
Cycling Tours Loire – click here to browse our Loire Valley bike tours.
Why cycling holidays in France?
Whether travelling by plane, train or ferry from the UK or heading by car or rail across the Continent, France, the land of baguettes, berets and so very much more, is very approachable from all directions. Good hospitality, an array of rich history, a mild climate and relaxed pace of life, delicious food, fine Rosé d'Anjou, sparkling Vouvrays and the lightest red Saumur Champigny, plus breath-taking scenery from rugged riverscapes to laid back flood plains make it a refreshing choice for a gentle cycling adventure.
Biking tours in the Loire Valley
Cycle Breaks itineraries are designed to introduce you to real French 'bijoux' – and where better to start than the countless châteaux of the Loire Valley? From flamboyant hunting lodge palaces to tiny floating country castles, we'll lead you to fairytale discoveries along the banks of the lazy Loire, letting you choose your own pace at the same time as providing optional itinerary extras, should you fancy a bit more of a challenge.
Here, it's the sheer magnificence of the châteaux, the sparkle of a glass of the local Vouvray or the whizz down the vineyard slopes to happen upon the next Renaissance wonder which will take your breath away, rather than the pedalling itself.
Flat riverside tracks and quiet lanes combine with undulating countryside and vineyard landscapes, mixing five different rivers with countless dreamy châteaux. Weave down historic narrow streets in towns such as Chinon, get a taste for the place at wine cellars in the limestone caves around Saumur and enjoy vibrant city life in Blois, Angers and magnificent Tours with its stunning cathedral.
Everyone has their favourite: Chinon's medieval fortress walls which line the river bank, lofty Amboise perched up high, Chambord, so utterly opulent with its four hundred rooms, turrets and towers, double helix staircase and phenomenal footprint. Like the castle at Villandry, Chenonceau, the château-cum-bridge, has beautiful formal gardens , plus a light and sound (son et lumière) spectacular which will leave a lasting impression. Cheverny is broad and classical, Montpoupon recognised by Gothic gables, Saumur bright and upright and Angers simply as solid as they come with seventeen impenetrable towers and formidable drawbridges.
This is the valley of Kings and Dukes of days gone by, over the centuries châteaux developed from defended encampments to glorified summer houses, romantic hideaways and woodland hunting lodges. Château d'Ussé is the dream which inspired Perrault's Sleeping Beauty; Azay-le-Rideau emerges from the woods, floating on its own lake, Gue-Péan appears in a clearing, cute, fun and folly-like with its irregular-capped towers and white stone walls contrasting with the green around it.
Each château is furnished to a greater or lesser degree, but many hold their own surprises from sumptuous tapestries at Angers to Beauregard's wall-to-wall portraits, Blois' fine balconied staircase and Saumur's stunning views.
Why choose a Cycle Breaks holiday in France?
Listening and learning from our customers heading to France since 2002, our Cycle Breaks team understand your priorities and pride themselves on personal service.
Cycling is our passion, and France is too – and we really enjoy sharing our enthusiasm and expertise. We develop routes and select accommodation to ensure the most inspiring and refreshing of gentle cycling adventures. The detail in our tours is appreciated by our customers and our holidays are considered to be good value for money.
Our French programme slowly has been developed slowly, and we have chosen all tours carefully. We visit the hotels personally, refining selections and preparing our own detailed route notes from our own research. We can advise on the suitability of routes, how to get to your chosen start destination and tailor itineraries to individual requirements.
Above all, we aim to offer real peace of mind, organising accommodation, arranging luggage transfers and en-route support and preparing meticulous route notes and mapping with top tips all round, so you can relax on your gentle journey as you château hop along the Loire.
Cycling Tours Loire Valley – click here to view our Loire Cycling Holidays.