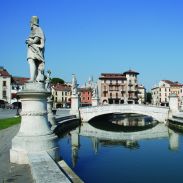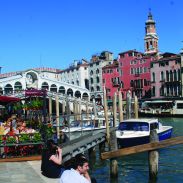 What about a gentle Italian cycling holiday adventure touring around Venice and the Veneto?
Cycle Breaks invite you to island-hop around Venice and enjoy Adriatic beaches before pedalling on to taste historic Padua and drink in the architectural wonders of Palladio's Vicenza. We offer self-guided and fully supported cycling tours of Italy and Western Europe, ranging from 5 to 7 nights.
Seeking out places to get a taste of real local flavours along our well-researched routes is all part of our high level of personal service, together with choosing accommodation ourselves from a cyclist's perspective.
We offer a great variety of inspiring holiday destinations. In Italy our cycling tours selection also includes opportunities to bike about to the backdrop of the Dolomites and sample the stunning vistas around Lake Garda.
Cycling Holidays Italy – click here to browse our Italian cycling holidays.
Cycling Tours Venice – click here to see our Venice cycling holidays.
Why cycling holidays in Italy?
Italy awaits with outstretched Campaniles and the warmest welcomes, whether you choose to travel by plane, train or ferry from the UK or head by car or rail across the Continent. The Veneto area breathes a gentle, warm Adriatic breeze of excitement – Venice steals the show, but Pellestrina, Chioggia and Sottomarina are only a vaporetti ride away, brimful of good hospitality, great cultural offerings, a relaxing pace of life.
Italy starts to woo, even before you have swooned with your own sigh at Venice's famous bridge. A good glass of Schiava washing down fresh pizza on the piazza usually does the trick, or the intensity of balcony after balcony of fading elegance. A gondola gliding down the narrowest of canals has immediate romantic appeal, but then in this part of Italy, even Verona, home to Juliet's famous balcony, does not seem so very far away…
The Veneto makes for a fabulous gentle cycling adventure. Here, a little bit of urban bustle and some island-hopping Vaporetti rides to discover Lido life will soon give way to soft Eugenese olive groves on the country lanes to Vicenza and green riverside routes to the famous university city of Padua.
Biking tours in Venice and the Veneto
Cycle Breaks itineraries are designed to give you inspiring experiences and time for reflection. The canals and lagoons around Venice, the water-lily strewn Lake Fimon in the Berici Hills close to Vicenza, the waters of the spa at Abano Terme near Padua and the calm banks of the Bacchiglione certainly go a long way to ticking all the boxes for a great gentle cycling adventure.
Venice, the land of gondolas and canals tunnelling between rafts of floating houses, may not seem the most obvious place to take to two wheels. It's a great way to put the place in perspective though, particularly when you head out over the Freedom Bridge and start to island hop with the Vaporetti.
Leave the masks and mayhem, canals and campaniles, Doges' Palace and Caneletto dreams behind you and head for a quick encounter with the Lido di Venezia, a paddle in the Adriatic or maybe a risotto di seppie (squid risotto) in the local osterie: choose your own pace and follow the occasional suggested detour if you wish – the gentleness of the cycling here matches the laid-back Veneto lifestyle.
Whether you're cycling past the melon plantations between Sottomarina and Rovigo, counting the eminent statues in Paduas' Prato della Valle or gazing in awe as masterpiece after Palladian masterpiece unfurls along the streets of Vicenza, Cycle Breaks itineraries give plenty of direction plus top tips to get the very best out of every day's special route plan, even if at times that may mean stopping to admire warm local colours and sun-baked pallazio; or simply parking up on the piazza and leaning back with a smooth latte or invigorating prosecco spritz…
Venice, Veneto, Vicenza, Villas and Vaporetti
Venezia, Veneto, Vicenza – each one their own frisson of excitement – vibrant, vivid, bright yet definitely fading, architecturally inspired, precious and priceless.
It's hardly surprising that the 117 little islands and the piles of medieval houses which go to make up the amazing city of Venice in the Italian province of Veneto are designated a World Heritage Site.
As if the fact that the city ever rose out of the saltwater lagoon between the Po and Piave estuaries is not mind-blowing enough, there are a host of impressive landmarks to take in from the Grand Canal to the famous pastel Campanile and intricate arches and rooflines of the Basilica di San Marco.
Venice is as unique and as busy as anything from a Canaletto to a contemporary e-postcard will suggest. Gold tipped gondolas with velvet trim bob opulently waiting to woo their next passengers. Caffè jetties reaching out across the water buzz every language imaginable under the Italian sun. Vaporetti criss-cross the water, picking up and delivering passengers from one medieval marvel to another, scooting about like frenzied waterboatmen. Meanwhile, the Piazza San Marco swarms with visitors by day, and still remains a hive of activity well into the night.
Art is everywhere, from picturesque pastel facades and medieval brickwork patterns to Tiepolo's troempe l'oeil ceilings in the Baroque palace Ca'Rezzonico, the Museo del Settecento Veneziano, Tintoretto's wonderful decoration in the Scuola Grande di San Rocco and the shimmering mosaic domes of the Basilica di San Marco.
But so too are more contemporary surprises from living statues street entertainers under the arches near St Mark's to the Henry Moores gracing the sculpture garden and the fantastic collection of cubist paintings at home in the Palazzo Venier dei Leoni aka the Peggy Guggenheim Collection.
Reaching out past Padua – the historic university city boasting scholars such as Galileo Galilei and some of the region's most amazing frescoes at the Cappella degli Scrovegni – palazzos give way to their country equivalents – the lavish villas dotted around the Monti Berici.
The hills here echo the praises of Palladio, and with some 23 buildings designed by the great master architect himself, Vicenza wins the title of the 'City of Palladio', and warrants its own designation as a World Heritage Site. The Teatro Olimpico, the Basilicana Palladiano and the Villa Almerico Capra are the must-sees here, contrasting in their refined elegance against the more rugged local landmarks such as the Porta Castello and Torre Bissara clock tower.
Why choose a Cycle Breaks holiday in Italy?
We have developed our Italian programme slowly, choosing tours carefully and have been listening and learning from our cycling customers since 1991.
Our Cycle Breaks team understand your priorities and pride themselves on personal service. We can advise on the suitability of routes, how to get to your chosen start destination and tailor itineraries to individual requirements. We visit the hotels personally, refining selections and preparing our own detailed route notes from our own research.
We simply love Venice, Italy and cycling too – and sharing our enthusiasm and expertise. We develop routes and select accommodation to ensure the most inspiring and refreshing of gentle cycling adventures. The detail in our tours is appreciated by our customers and our holidays are considered to be good value for money.
You can count on really being able to relax as you pedal across the piazzas, reflect by Venice's maze of canals and multitude of bridges or visit the Monti Berici and Vicenza at your very own pace, because at Cycle Breaks, we aim to ensure that our organisation and meticulous planning deliver real peace of mind.
Cycling Tours Venice – click here to view Venice Cycling Tour