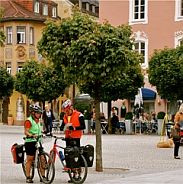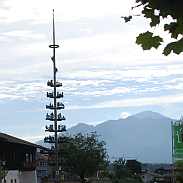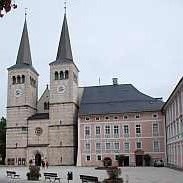 Why not take time to enjoy a cycling holiday pedalling through the awesome alpine valleys of Upper Bavaria in Germany from the oompah bands of Munich's beer gardens to the classical delights of Mozart's Salzburg?
At Cycle Breaks we offer self-guided cycling holidays from 5 to 8 nights in Austria/Germany and Western Europe, including a cycling holiday around the lakes and mountains of Upper Bavaria. Our well-researched routes focus on great things to see from the most awe-inspiring vistas to hidden local, architectural gems. What's more, we pick out great places to stay ourselves from a cyclist's perspective and ensure that there are plenty of places to savour real local flavours along the way.
In Germany our cycling holidays include opportunities to explore Bavaria's best bits by bike starting in lively Munich and including smart spa towns and the historic salt route which leads through the ever-charming Berchtesgardener Land across the border to Austria and Salzburg.
A high level of personal service is at the heart of everything we do. We pride ourselves on offering a wide range of inspiring holiday destinations and also provide cycling tours from Passau on the German border along the river Danube into Austria.
Cycling Holidays Germany – click here to browse our Bavaria cycling tours, Danube bike tour and Austrian cycling holidays .
Cycling Bavaria – click here to see our Bavaria cycling favourites.
Why cycling holidays in Germany /Austria?
Enjoy the best of both worlds with a cycling holiday which crosses borders and explores timeless trade routes.
Whether you choose to follow the Danube from Passau or head out through beautiful Bavaria from Munich, cycling from Germany across into Austria makes for a superb holiday of contrasts, culture and stunning scenery. Munich is served by a wide range of airlines and thanks to the rail and autobahn networks, travel by train or car across the country is easy too. And the Bavarian welcome, from tasty Würstchen to Berchtesgaden's imposing Watzmann mountain is simply out of this world.
Upper Bavaria or Oberbayern is a land of lakes and mountains, lavish castles and little churches, Baroque façades and the civic pride of stately spa towns such as Bad Tölz. Great hospitality is matched only by the rich cultural offerings, from the oompah bands of Oktoberfest Munich to the philharmonic delights of the Kurkonzerte in the smart spa buildings and park at Bad Reichenhall .
Dedicated paths make for great cycling in and out of the key cities in both Germany and Austria, and across Bavaria lakeside tracks, quiet country lanes and cycle paths lead occasionally upwards through the greenest alpine valleys and the prettiest villages of pastel farmhouses with flower-filled window boxes.
At Cycle Breaks we design all our itineraries to give you inspiring experiences and time for reflection. In Bavaria, we invite you to stop by the lakeside, look up at the mountains, breathe in the exhilarating alpine air and enjoy some real local colour. Our route from Munich to Salzburg covers around 300 kms over 6 days in the saddle with some climbs and descents. Variations on this tour allow you to extend your stay and really savour the flavour of the regional capitals too. We think Bavaria cycling is full of fascinating highlights and makes for one great gentle cycling adventure.
Upper Bavaria boasts 200 lakes, rivers, flat plains, gently rolling foothills and the most magnificent mountains. It's a snowy favourite in winter, but really blooms from early summer when the lush green alpine valleys break out in flower and the hills are alive with hikers and cyclists taking to the country lanes and lakeside cycle paths.
Monarchs, statesmen and dictators, famed German writers such as Thomas Mann and painters including Kandinsky have spent their summers here, leaving behind them rich legacies such as King Ludwig II's Versaillesque castle on the Herreninsel in the middle of the Chiemsee or the more humble, but distinctly haunting Eagle's Nest near Berchtesgaden enjoyed by Hitler.
From the rich Baroque architecture of Bad Tölz to the colourful figure-crowded musical clock on Munich's Marienplatz or the buoyant cries of 'Grüss Gott!' which grace every corner and the bicep-building litre glasses of frothy beer which are simply a way of Bavarian life, there is something exuberant and constantly jovial about the welcome in this part of Germany. Experiencing it all on a bike somehow makes it all the more immediate, with the chance to stop at whim to wonder Inzell's beautifully painted houses, watch the alpine wildlife, linger in the Biergärtl or dip a toe in the crystal waters of the Konigssee.
As you pedal along the old Salt Route, Bavaria has its own therapeutic rewards in store as well as the fresh air and inspiring views. Get in tune with yourself in the Kurpark by the bandstand in Bad Reichenhall ; relax into a special spa experience, enjoying the local waters – maybe even take a mud bath if you fancy it at Bad Feilnbach? Or simply follow another great local tradition: refresh body and soul on the café terrace with a glass of Eiswein or quench that cyclist's thirst with a Stein of cold beer.
Munich, Bad Tolz, Chiemsee, Konigsee – from Biergarten to Berchtesgaden
Munich really gets you in the mood for Bavaria even before you catch sight of the bright maypoles, real Lederhosen and green pastures of the region's alpine villages. Bavaria's capital on the River Isar is colourful, traditional, yet contemporary; brimful of culture – and beer. The Hofbräuhaus brewery gives a real flavour of the region, then there is a castle, cathedral and an array of outstanding museums to explore, not to mention great shopping.
Following the Isar, Baroque Bad Tölz sits in smart civic pride at the crossroads of ancient trading routes, offering a charming mix of market streets and squares, culture and Kur (spa) facilities.
Further east beyond the refreshing waters of the Tegensee and Schliersee lakes, Bavaria's vast, tidal sea stretches out by the mountains. Dotted with chic resorts and picturesque lakeside villages, the Chiemsee even has its own 'his & hers' islands, graced with an exuberant castle or impressive abbey.
Down near the Austrian border a sliver of a lake in comparison is a sure show-stopper . On the outskirts of beautiful Berchtesgaden, the Königssee is literally king – a small stunning fjord with sheer rock cliffs, a highly photogenic lakeside church, the Sankt Bartholomäkirche, and amazing mountain backdrop.
Why choose a Cycle Breaks holiday in Germany / Austria?
We aim to offer real peace of mind, so you can really relax as you take to two wheels.
We think that our selected areas of Germany and Austria have just the right combination of superb scenery, cultural attractions, great hospitality and excellent cycling – and we're keen to share our enthusiasm and expertise.
The detail we put into our tours is appreciated by our customers and our holidays are considered to be good value for money. Our Cycle Breaks team understand your priorities and pride themselves on personal service. We've been listening and learning from our cycling customers since 1991.
Our programme in Germany has developed alongside our popular Austrian cycle tours. We take things slowly, choosing tours carefully, creating routes and selecting accommodation to ensure the most inspiring and refreshing of gentle cycling adventures.
We prepare our own detailed route notes packed with top tips from our own research in Bavaria and beyond and visit the hotels personally, refining our selections. As a result, we can really advise on the suitability of routes, wax lyrical about the alpine landscapes which will unfurl beneath your wheels, tailor itineraries to individual requirements and offer informed opinions on how to get to your chosen start destination.
Bavaria Cycling – click here to browse our bike tours in Germany and on the Austrian borders.