Wondering about cycling tours along the River Danube?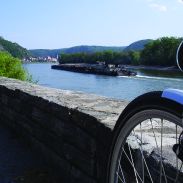 Cycle Breaks organise self-guided and fully supported cycling holidays in Austria, Germany and Western Europe, with stays from 5 to 7 nights. A high level of personal service and a great range of inspiring holiday destinations are key to what we do. We pick accommodation ourselves, considering things from a cyclist's perspective and hunt down plenty of places rich in real local flavours to include along our well-researched routes.
Our cycling tours in Austria include the chance to explore the mellow meanders and amazing selection of scenery and World Heritage Sites on offer the length of The Danube from Passau in Germany to that most cultured of Austrian cities, Vienna.
We also offer a ten lake tour of Salzkammergut, the Austrian Lake District.
Cycling Holidays Austria – click here to browse our Austrian cycling holidays.
Cycling Tours Danube – click here to see our Danube cycling holidays.
Why cycling holidays in Austria?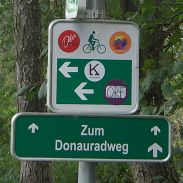 Whether you choose to travel by plane, train or ferry from the UK or head by car or rail across the Continent, Austria awaits with an exuberant welcome: the land where Baroque buildings swirl and Viennese waltzes twirl, where the pointiest of village church towers punctures mountain skies and balconies drip geraniums.
Good hospitality, great cultural offerings, a breathe-easy climate and relaxed pace of life combine with tempting Kaffee und Kuchen rituals, the brightest white wines, plus awe-inspiring scenery from the Danube's soon-to-be-a-lake oxbow meander at Schlogen to the Schloss Ort's rugged mountain backdrop on the Traunsee.
Riverside routes and lakeside tracks, plus dedicated bike ferries and fantastic freewheeling potential add to Austria's appeal as a gentle cycling adventure just waiting to happen.
Biking tours along the River Danube
Cycle Breaks itineraries are designed to introduce you some of Europe's finest gentle cycling adventures. The Danube has to be the classic place for a comfortable cruise on a bike.
The river valley itself and vineyard slopes make for the most amazing green and pleasant scenery every pedal push of the way. Rocky outcrops, lazy loops and broad flood plains make for a varied route where cycling is mainly traffic-free with low-lying wooden bike ferries allowing you to skip between paths on both sides of the famous River.
The many towns and cities of the German border and Upper Austria make for tempting stops along the way or even perhaps a musical interlude. Beethoven, Mozart, Bruckner, Strauss… the Danube's connections are classic. Fortunately, taking a day out of the saddle is not a problem, thanks to the numerous boats and river-hugging, cycle friendly railway, so you can rest assured, relax and savour perhaps one more memory of the Habsburg Empire in Linz, or wonder just a little longer at the beauty of the World Heritage Site at Wachau.
Meanders, monasteries, castles and Vienna city culture
Historic Passau on Austria's border with Germany delights in its title of 'The City of Three Rivers'. A great place to start any dreamy Danube adventure, getting out on the water here is a must to explore the fortress and fortunes of Passau from the Donau (Danube) and its tributaries the Inn and the Ilz.
Engelhartzell is home to Austria's only trappist monastery, and most visitors who experience a sunset, looking out over the Danube view at nearby Schlogen will be stuck for words too. This is perhaps the River's most famous 'meander' where a wall of granite redirects the Danube by a whole 180°. There are stunning views at Aschach too, just before the area's capital, Linz, which boasts golden memorials, a castle, the oldest church in Austria and the Ars Electronica – museum of the future.
Austria's oldest city, Enns, has towers and squares well worthy of a Chittty-Chitty-Bang-Bang set, but as the Danube winds towards Krems and the famed Wachau Valley, things get a little less secular with the Baroque style Augustinian monastery at St Florian, Maria Taferl – place of pilgrimage and magnificent views high above the river- and at Melk, the impressive Benedictine monastery, Stift Melk which is built on and into the rock above the Danube on the site of Leopold I's Babenberger Castle.
Vienna adds the finest finale flourish to any encounter with the Danube. Having savoured the wines and drunk in Danube views from hilltop cafés until now, there's a chance to settle down with a helping of Sachertorte in one of the historic Viennese coffee houses, or get an overview from the top of the city's famous Riesen Rad (Big Wheel) at the Prater.
Art lovers just don't know where to start in Vienna with over 100 museums. The funky Hundertwasserhaus – screamingly contemporary and oh-so-Viennese in an unconventional way – is perhaps a worthwhile tip.
Baroque buffs find it hard to stray from the Karlskirche, although the Romanesque Ruprechtskirche demands visitor attention too… but then who can resist the Stefansdom (cathedral) or the wonderful imperial palaces of Hofburg and Schönbrunn, the Naturhistorisches Museum, and of course a good dose of Mozart at the world famous Opera house?
Why choose a Cycle Breaks holiday in Austria?
Since 1991, we've been listening and learning from our cycling customers. Our dedicated Cycle Breaks team understand your priorities and pride themselves on personal service.
We love sharing our enthusiasm and expertise, simply can get enough of cycling and have fallen in love with Austria too! We develop routes and select accommodation to ensure the most inspiring and refreshing of gentle cycling adventures. We can advise on the suitability of routes, how to get to your chosen start destination and tailor itineraries to individual requirements.
We have developed our Austrian programme slowly, selecting tours carefully. The detail in our tours is appreciated by our customers and our holidays are considered to be good value for money. We visit the hotels personally, refining selections and preparing our own detailed route notes from our own research.
Real peace of mind is at the heart of our offer. We organise accommodation, arrange luggage transfers and en-route support and prepare meticulous route notes and mapping with top tips all round. As a result, you can relax on your classic gentle journey through the jewels of Austrian countryside and culture along one of Europe's most famous rivers.
Cycling Tours River Danube – click here to view our Austrian Danube Cycling Holidays