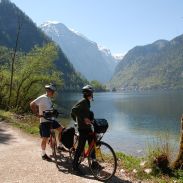 Why not enjoy cycling holidays in Austria taking in the breath-taking scenery around the lakes and mountains?
At Cycle Breaks our cycling tours in Austria and Western Europe range from 5 to 7 nights and are fully supported and self-guided. We personally pick out great places to stay from a cyclist's perspective and hunt down plenty of locations to enjoy real local flavours along our well-researched routes.
In Austria our cycling tours include opportunities to explore the Salzkammergut, the area close to Salzburg, home to some of Austria's most stunning lake and mountain combinations with scenery and architecture immortalised by film and fiction.
We pride ourselves on a high level of personal service and a great variety of inspiring holiday destinations including cycle tours along the river Danube in Austria.
Cycling Tours Austria – click here to browse our cycling holidays in Austria.
Cycling Tours Austrian Lake District – click here to see our Austrian Lakes cycling holidays.
Why cycling holidays in Austria?
Austria awaits with an exuberant welcome, whether you choose to travel by plane, train or ferry from the UK or head by car or rail across the Continent. This is the land where Baroque buildings swirl and Viennese waltzes twirl and where the pointiest of village church towers punctures mountain skies and balconies drip geraniums.
Good hospitality, great cultural offerings, a breathe-easy climate and relaxed pace of life combine with tempting Kaffee und Kuchen rituals, the brightest white wines, plus awe-inspiring scenery from Schloss Ort's rugged mountain backdrop on the Traunsee to the Danube's soon-to-be-a-lake oxbow meander at Schlogen .
Lakeside tracks and quiet country lanes, plus boats and trains to take the strain and fantastic freewheeling potential add to Austria's appeal as a gentle cycling adventure just waiting to happen.
Cycling tours around the Austrian lakes and mountains
Cycle Breaks itineraries are designed to give you inspiring experiences and time for reflection. The Austrian Lake District ticks all the boxes for a great gentle cycling adventure.
Although Austria has some 300 lakes to choose from, a circular route from Salzburg takes in just ten of the best candidates, blending everything from culture to cooling caves, roofscapes and landscapes, sheer confection and striking natural beauty. Gentle pedalling past green lakeland pastures combines with relaxing cruises by boat to give the mountain backdrops yet more different perspectives. Baroque churches rise majestically out of small villages and the highest pointy spires of lakeside hamlets stand dwarfed against great mountain peaks and slopes. There are boats and market town bustle, wide-gabled chalets trailing bright flowers and quiet woodland spots where everything is just as nature intended.
Riverside routes along the river Salzach, flat lakeside tracks and quiet country lanes across rolling hills lead from one watery wonderland to another in this Seegebiet (Lake District). Each See has its own character from the nature reserves of the Egelseen to the warmest Salzkammergut waters of Wolfgangsee and the intriguingly named Langbartsee (Long Beard Lake) which is reserved simply for bathing.
As well as breaking up time in the saddle by sampling well-deserved Apfelstrudel and the warm welcome of Austrian hospitality, there are plenty of places to change the pace with cruises across the water and the bike-friendly trains to let weary wheels recover on the route from Ebensee to the spa town of Bad Ischl then on to one of the Salzkammergut's most treasured lakes, Hallstattersee, in part designated a World Heritage Site.
St Wolfgang, Hallstatt, Bad Ischl and Salzburg – refreshing reflections, awesome vistas
Sound of Music memories in the church at Mondsee. Alpine carnations and Edelweiss. Clear, crisp mountain air. Green and white salt glaze ceramics from Gmunden on the northern shore of the romantic Traunsee. Gentle Mozart melodies catching the air in Salzburg's famous Getreidegasse…
The Salzkammergut has such an amazing palette of close-up colourful experiences to share, but the most vivid images of this part of Austria have to be the imposing mountain vistas and shimmering lakeland reflections.
At the foot of Mount Schafberg, lively St Wolfgang sits proudly on its 'own' lake (Wolfgangsee) and has been attracting visitors for health stays and skiing for generations. Narrow lanes of shops and cafés are picturesque enough, but take the rack railway up the mountainside for truly breath-taking views of the lake and surrounding mountains.
There's a real dreaminess about the Traunsee and Traunkirchen, where Castle Ort seems to float in splendid isolation and towering mountain peaks loom high from above. At nestling Hallstatt, the church spire points a sharp finger towards the heavens, only to be thwarted by an impenetrable wooded wall of mountain. A World Heritage Site, its days of being 'lost' and accessible only by boat or narrow mountain trail are long gone. Despite its popularity, its lakeside position and beauty rank it amongst Austria's very finest offerings.
Bad Ischl won fame as the summer residence of Emperor Franz Josef in the late 19thcentury. The Imperial Villa is very impressive and the smart spa town feels rather cosmopolitan, but a cable-car ride is the real must here to get the most breath-taking of panoramic views.
In Salzburg the climb to do is the trip up to the Hohensalzburg fortress to look down over the old city, perhaps the best-preserved north of the Alps and a another World Heritage Site. Mozart's native city has so much to offer the visitor from the Nonnberg Abbey and Mirabell Gardens to palaces at Heilbrunn and Leopoldskron, but in the old town, practically every street is a picture, every little lane leads to some kind of vista as the place swirls with exuberant Baroque beauty.
Why choose a Cycle Breaks holiday in Austria?
We simply love Austria and cycling too – and sharing our enthusiasm and expertise.
Listening and learning from our cycling customers since 1991, our Cycle Breaks team understand your priorities and pride themselves on personal service. The detail in our tours is appreciated by our customers and our holidays are considered to be good value for money.
We have developed our Austrian programme slowly, choosing tours carefully. We develop routes and select accommodation to ensure the most inspiring and refreshing of gentle cycling adventures.
We visit the hotels personally, refining selections and preparing our own detailed route notes from our own research. We can advise on the suitability of routes, how to get to your chosen start destination and tailor itineraries to individual requirements.
We aim to offer real peace of mind, so you can really relax as you take to two wheels, breathe in the refreshing mountain air, and enjoy some of the very best lakeland views in Europe – just leave preparing the meticulous maps and route notes, organising accommodation, arranging luggage transfers and en-route support and hunting out really great top tips to us.
Cycling Tours Austrian Lakes – click here to browse our Bike Tours in Austria